EXPERIENCE 'VISUAL DYNAMIC' AT HONG KONG INTERNATIONAL POSTER TRIENNIAL 2004 EXHIBITION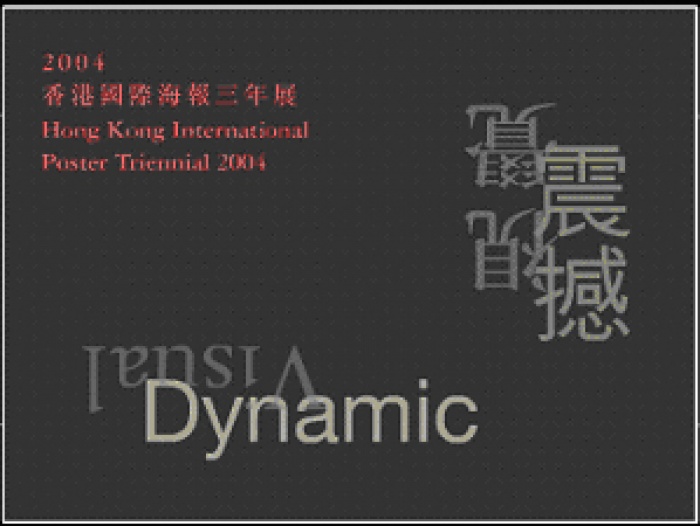 26.01.2005 News
Hong Kong (China)
- After hosting a successful poster competition, the Hong Kong Heritage Museum will be showcasing over 400 outstanding international poster works in the Hong Kong International Poster Triennial 2004 exhibition.* The exhibition illustrates how poster art has successfully evolved as a communication medium, despite the onslaught of computer and Internet in the 21st century. Visitors can view the short-listed poster works as well as posters by acclaimed international jury members until 27 June 2005.
The role and the visual representation of posters have changed continuously over the past century to meet the changing needs of society. Although its function is less dominant than it was 100 years ago, poster is still an illustrative and attractive art form which gives strong visual impact. Indeed, the visual power of poster goes beyond words, languages and races.
The Hong Kong International Poster Triennial composed of an open competition, an exhibition and a symposium, is a regular international event held every 3 years at the Hong Kong Heritage Museum. In the Triennial Competition, 337 sets of recent poster works have been short-listed from 1,727 numbers of entries from 40 countries/regions. They are to be presented under 4 categories, namely 'Ideological', 'Promotion of Cultural Events ', 'Commercial and Advertising', and 'Thematic - Space'.
Representative poster works from the international judges for the Competition, including Mitsuo Katsui (Japan), Alain Le Quernec (France) and Wang Yuefei (Mainland China), will also be featured as a reference to their creative achievements.
A fully illustrated catalogue is published and available at the museum gift shop.
Exhibition Period: 27 November 2004 - 27 June 2005
View exhibition highlights at
www.heritagemuseum.gov.hk/english/exhibition.htm
---
For further information please contact:
Hong Kong Heritage Museum
1 Man Lam Road, Sha Tin
Hong Kong, China
T: +852 2180 8260
W:
www.hk.heritage.museum
*This event is endorsed by Icograda. Icograda endorsement is a guarantee that the design event complies with approved international guidelines.