SAPPI'S HANNOART SHOWS THE WAY THROUGH THE MAZE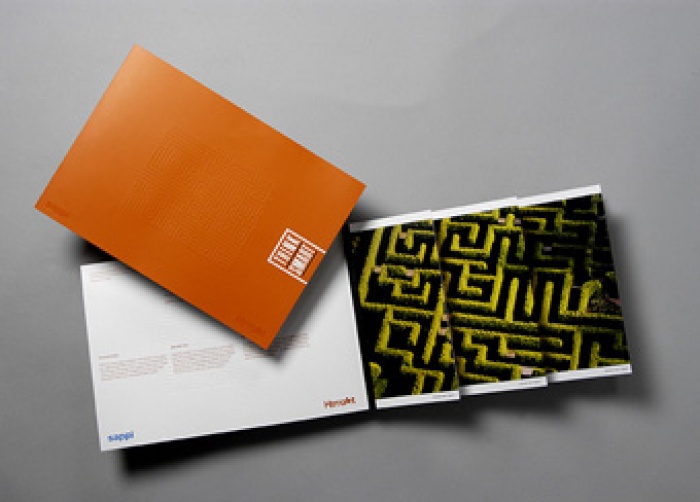 25.01.2005 News
Brussels (Belgium)
- Sappi is assisting designers, production managers and printers to find their way through the 'maze' of modern printing techniques and choose the right paper for their clients' printed communications. Its latest promotional tool in the 'Think Smart' campaign for HannoArt presents the brand's gloss, silk and matt coated woodfree paper range and features some of the latest techniques in pre-press, printing and finishing.
The brochure demonstrates the result of reproducing the same maze image side by side on the three HannoArt qualities and uses a different printing or finishing technique for each major grammage. These include not only high pigment process colours and the appropriate matt, silk and gloss varnish, but also special 'hi-fi' colour, stochastic screening, spot soft-touch and pearl-effect varnishes and pearlescent ink.
The cover, printed on 300g/m sq. HannoArt Silk, also features special inks, silk lamination, silk varnish, blind embossing, die cutting and perforation.
"HannoArt has always encouraged the print community to think smart when selecting the appropriate paper for a particular job," says brand manager Sari Mattila. "Our new brochure provides solutions for this process and also demonstrates our recent quality improvements which bring the brightness and shade of the three surfaces closer together."
The new HannoArt brochure is currently being distributed via leading Sappi paper merchants throughout Europe.
---
For further information please contact:
W:
www.sappi.com/HannoArt
Sappi is the world's leading producer of coated fine paper. Its brands include Magno, HannoArt, Presto, Voltage and Royal, which are specified by customers in more than 100 countries for high quality books, annual reports, brochures, magazines, calendars and promotional material. Sappi is the official sponsor of Icograda.