Graphic design resource Re-nourish joins the Environmental Paper Network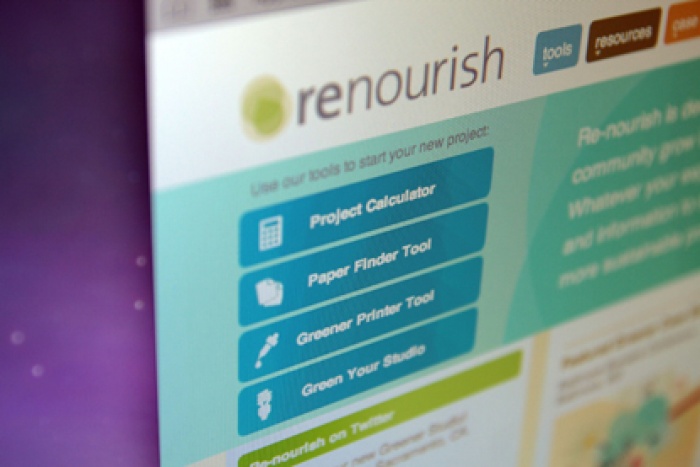 20.09.2010 News
San Francisco (United States)
- Sustainable graphic design resource
Re-nourish.com
has joined the Environmental Paper Network, a diverse coalition of leading environmental groups, in an effort to move the pulp and paper industry toward environmental and social sustainability.
Re-nourish's membership in the EPN represents a commitment to the coalition's Common Vision, which focuses on minimising paper use, increasing recycled content in paper, supporting clean pulp and paper production and encouraging responsible fiber sourcing.
"Sustainable graphic design is such a critical decision point in our society's consumption of paper," said Joshua Martin, Director of the Environmental Paper Network. "Re-nourish is doing creative, important work to educate graphic designers on responsible use of paper products and the power they hold in their hands, and it's exciting to have Re-nourish formally join our membership."
Connecting designers to their supply chain
By welcoming Re-nourish into the coalition, the EPN helps ensure the graphic designer's voice will be heard as the organisation works to move the pulp and paper industry toward more responsible sourcing and manufacturing.
"Joining the EPN is a critical step for us," says Re-nourish partner and Content Lead Jess Sand. "Graphic designers play a critical role in the world of paper purchasing, and we need to close the loop between designers, manufacturers, distributors, and the rest of the marketplace if we're going to change the way paper is made."
Re-nourish has spent the last several years developing tools to connect graphic designers to their supply chain, including free searchable greener printer and paper directories and a waste reduction and footprint calculator for design projects.
Mitigating the impacts of pulp and paper
The pulp and paper industry is among the world's largest generators of air and water pollutants, waste products, and greenhouse gasses; the industry released 263 million pounds of toxic chemicals into the environment in 2000 alone, according to the US Environmental Protection Agency. In an effort to help the industry move toward more sustainable solutions, over 100 nonprofit organisations have signed onto EPN's Common Vision, including Rainforest Action Network, Forest Stewardship Council US, Environmental Defense Fund and now Re-nourish.
With a mission to help mitigate the negative social and environmental impacts of the graphic design field, Re-nourish's work is clearly aligned with that of the EPN. By reducing paper use overall through better design and specifying papers with maximised recycled content, clean production processes and responsibly-sourced fiber, graphic designers can take control of their environmental footprint while encouraging the vendors they work with to do the same. Hundreds of designers have already used Re-nourish's free tools to put these values into practice and both groups expect the partnership will expand their reach among this critical point in the design supply chain.
With its membership in the Environmental Paper Network, Re-nourish reinforces its role as a key independent, sustainable design resource for working designers everywhere.
---
For more information, please contact:
Eric Benson
Partner and Outreach Lead, Re-nourish
E:
eric@re-nourish.com
T: +1 512 538 4211
Joshua Martin
Director, Environmental Paper Network
E:
joshua@environmentalpaper.org
About Re-nourish
Re-nourish.com is the industry's first free and independent online toolkit for sustainable graphic design. Featuring a waste reduction and footprint calculator for design projects, searchable greener printer and paper directories, how-tos and educational resources and inspirational case studies, Re-nourish empowers designers to implement sustainable decision-making in their day-to-day work.
www.re-nourish.com
About Environmental Paper Network
The Environmental Paper Network represents over 100 organisations working together to accelerate social and environmental transformation in the pulp and paper industry. In the fewer than ten years it's been active, the Environmental Paper Network's membership has helped to protect over 60 million acres of North American forests, driven hundreds of new corporate policies implementing responsible paper policies and developed a flourishing marketplace for environmentally-responsible papers.
www.environmentalpaper.org