Hong Kong Design Centre announces Hong Kong Young Design Talent Awards call for entries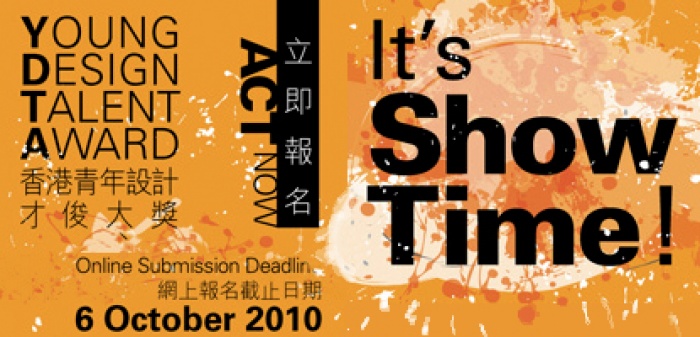 21.09.2010 News
Hong Kong
- The is now pleased to announce the call for entries for the Hong Kong Young Design Talent Award (HKYDTA) 2010. This year, a total sponsorship of HKD 1.5 million will be awarded to four winners for their overseas work placements or education.
Young practising designers and design graduates aged 30 or under are invited to participate. The deadline for submissions is 6 October 2010.
The Hong Kong Young Design Talent Awards was introduced in 2005 to identify and encourage up-and-coming young designers and design graduates to undergo training and/or placements at reputable organisations abroad so as to broaden their horizons.
A Judging Panel has been set up to select the awardees. It is chaired by the Head of Create Hong Kong and includes reputable designers and prominent industrialists and business leaders.
There are two categories of awards:
Awards for Practising Designers
- DesignSmart Young Design Talent Awards
Awards for Design Graduates
- HKDI Young Design Talent Educational Award
- PolyU School of Design Young Design Talent Educational Award
The competition is organised by the Hong Kong Design Center, with the support of Create Hong Kong,
Hong Kong Design Institute
and the .
For full competition details, visit:
www.ydta.hk/2010
---
For more information, please contact:
"Hong Kong Young Design Talent Awards Secretariat"
Hong Kong Design Centre
1/F, InnoCentre
72 Tat Chee Avenue
Kowloon Tong
Hong Kong
T: +852 2522 8688
E:
enquiry@ydta.hk
About Hong Kong Design Centre
Hong Kong Design Centre is a non-profit organisation dedicated to helping local designers and business realize their full potential. We take a leadership role engaging in a proactive dialogue that preaches to government, industry, business partners, educational institutions and private organisations about design as a strategic, value-enhancing constituent of business. Towards the wider public audience, we tirelessly seek to inculcate a greater appreciation of the ways design contributes to a better quality of life.
www.hkdesigncentre.org