ico-D announces new appointment: Ana Masut as Managing Director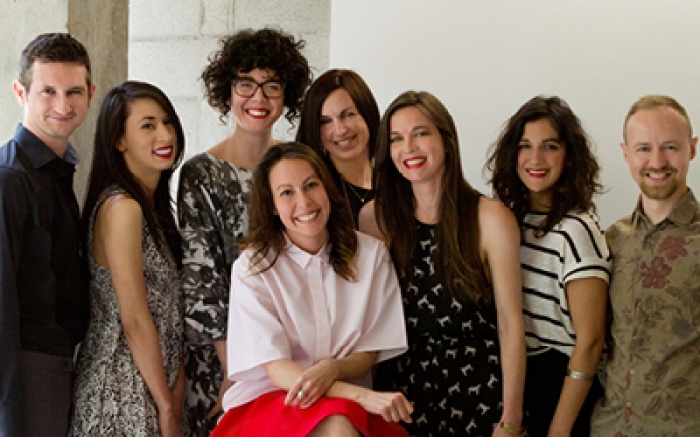 17.06.2015 News
Above (L-R): ico-D Secretariat team: Emlyn Nardone, Liz Carbonell, Jovana Milović, Ana Masut, Caroline Jelovcic, Alisha Piercy, Tara Dourian, Alexey Lazarev (Photo credit: Stephanie Belanger)
"This new course we have determined for ourselves is ambitious and exciting."
—Ana Masut, ico-D incumbent Managing Director

ico-D formally announces the appointment of Ana Masut as the new Managing Director for ico-D, International Council of Design, effective 1 July 2015.

Hailing from Argentina, with an educational background in both International Business and Industrial Design, Ana Masut has over a decade of experience managing international projects in a range of industries, most recently in international market development with the Board of Trade of Metropolitan Montréal and managing international projects for Mission Design, the design council for Québec, where she actively participated in the development of the .

"Design, in my view, is a super power within the world toolbox. It enables us to understand processes as they span fields and disciplines, to be sensitive to iterative development, and to establish effective and meaningful conversations between design educators, industry and professionals. ico-D has made significant changes in the last decade to reflect the shifts that are occurring both within our profession and without; this new course we have determined for ourselves is ambitious and exciting, and I have the great privilege of having a hand in its execution."

The Council's new course is the culmination of a significant period of change—resulting in its shift to a multidisciplinary, international design body; a process executed by Jovana Milović during her appointment as Managing Director from 2013-present. "It has been a pleasure to have been a part of the historic and bold changes at ico-D, marking a new era of the Council: a new name and expanded mandate aimed at a more responsive and Member-driven agenda, a new headquarters office in Montréal, and the rebuilding of full Secretariat capacity," she remarked.


"I am proud of our achievements thus far and am confident that under Ana's leadership, ico-D will continue to thrive."
—Jovana Milović, ico-D outoging Managing Director


Following the announcement of her new role, Masut commented: "This is an exciting time to join ico-D and there are many thrilling challenges going forward. In broadening the scope of our membership and redefining our role, it will be crucial to redefine what makes us relevant, not only to our members and the design community at large, but also to potential partners and outside stakeholders. Through initiatives like the 2017 Summit, in which ico-D is one of three primary partners, we will have a chance to speak to audiences we must address more effectively: governments, policymakers and international institutions outside of the design sector."


For more information, contact:
Alisha Piercy, ico-D Communications Officer
communications@ico-d.org

Read full Press Release.

Read more about the ico-D Secretariat team .