ICOGRADA ACHIEVEMENT AWARD RECIPIENTS ANNOUNCED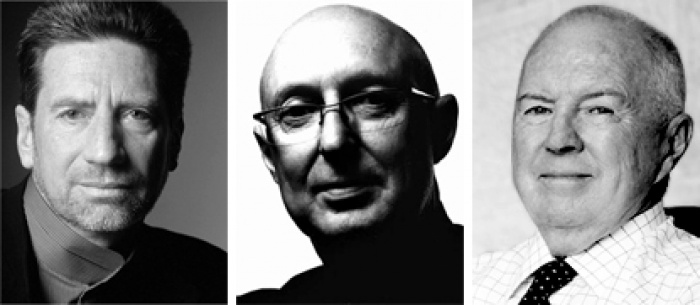 14.07.2009 News
Melbourne (Australia)
- On 16 July 2009, the Icograda Executive Board will honour Ken Cato, Garry Emery and Dr Michael Bryce with . The ceremony will take place at the new Melbourne Convention Centre as part of
State of Design Festival 2009
and will be presented by Greg Hywood, Deputy Secretary, Tourism, Aviation & Communications and Chief Executive Tourism Victoria, DIIRD; along with Professor Don Ryun Chang, Icograda President.
This occasion marks the first Australian honourees. Ken Cato and Garry Emery were nominated by the (AGDA), and Dr Michael Bryce was nominated by the
Design Institute of Australia
(DIA), both Icograda Professional Members.
Ken Cato
Ken Cato is an Australian designer with an international reputation. The principal of Cato Partners, founded 39 years ago, Ken has an impressive history of influential design and communication projects worldwide. Based in Melbourne, but with offices in both hemispheres, Cato Partners specialises in corporate brand management and design. His distinctive work includes many well known and powerful Australian trademarks, such as the Commonwealth Bank, the Seven television network, the SBS television network, biscuit company Arnotts and Coles Supermarkets. His work is admired for its striking originality and dynamism, and has appeared in almost every journal and design magazine around the world.
He is a member of the The Type Directors Club of New York, Australian Writers and Art Directors Association, and he had a period as worldwide president of Alliance Graphique Internationale (AGI).
Cato received an honorary doctorate in Design from Swinburne University of Technology Australia, and he was inducted into the Hall of Fame at the inaugural Victorian Design Awards. He has published a number of books including: GD-3d Graphic Design in the Third Dimension, Design for Business, The View from Australia, Cato Design Inc, First Choice, Hindsight and Design by Thinking. Cato has also won numerous international and Australian design awards, and his work is represented in museums and galleries throughout the World.
In 1991 Cato and the AGI established the annual international design conference, AGIdeas, in Melbourne. AGIdeas, which was last held in April this year, is one of the world's largest design conferences, with more than 2000 delegates and is a valuable forum for encouraging and inspiring young Australian designers.
Ken Cato has made an important and valued contribution to the design landscape in Australia over the past 40 years, especially in his tireless encouragement and promotion of young Australian design talent through AGIdeas.
Garry Emery
Garry Emery is a self-taught graphic designer. With no formal education, he has progressed from assistant in a commercial art studio to a leading international design practitioner, an achievement acknowledged by the public and his peers.
Today he is design director of emerystudio, a Melbourne based communications design practice operating across Australia, Asia, the Middle East and the United Kingdom, developing brand strategy and identity design, marketing communications, websites, motion graphics, print, exhibitions and environmental design from the scale of buildings to cities. emerystudio has designed graphics for many notable Australian buildings, from the Sydney Opera House to the Australian War Memorial in Canberra, as well as Australian embassies in Beijing and Tokyo.
For his contribution to architecture and urbanism he received the Presidents Award from Royal Australian Institute of Architects. He is a member of the prestigious Alliance Graphique Internationale and was awarded the 2006 Fellow from the Society for Environmental Graphic Design USA. For his services to design he received an honorary doctorate from RMIT University, is an Adjunct Professor at Deakin and RMIT Universities, and lectures internationally.
His work has been widely exhibited, published and awarded. His awards include the 2002 Good Design Awards in Chicago, the Gold Award from the Tokyo Type Directors Club; the Gold Awards from the biennale of Graphic Design, Czechoslovakia; and the Gold Award from the New York Type Directors Club, USA. Emery also has work represented in various gallery collections worldwide, including: the Museum die Sammlung in Munich, Germany; the Museum of Victoria; Mexico City Metropolitan University and Gottheiner Fine Arts Museum, St Louis, USA. Emery's published book 'Insideoutsidein' is a definitive look at environmental graphic design of which Garry is a leading exponent both in Australia and internationally.
During a prestigious career that has already spanned over 40 years, he has become Australia's foremost environmental and branding communications designer and his passion for the urban environment has led to lasting, impactful and iconic contributions to our public domains.
Dr. Michael Bryce
Michael, formerly from Queensland, is an architect and visual communication designer and former principal of Minale Bryce Design Strategy.
Michael established an architectural practice in Brisbane and expanded its interests to include graphic and industrial design. In 1977 he was elected the inaugural Queensland President of the then Industrial Design Institute of Australia and National President in 1979.
Michael was Principal Design Advisor of the 2000 Olympic Games in Sydney and has also advised the International Cricket Council.
He is Adjunct Professor of Design at the Queensland College of Art (Griffith University) School of Design and Architecture (University of Canberra) and the College of Fine Arts(University of New South Wales).
In 2003 the University of Canberra conferred Michael with the degree of Doctor of the University honoris causa. In 2006 Michael was made a Member of the Order of Australia (AM) for services as an architect to the development of industrial, graphic and commercial design, reflecting Australian heritage and the environment, to education, and to the community.
In recognition of his life time achievements he was inducted in the Design Institute's Hall Of Fame in 2006.
His current role has him residing in Canberra as His Excellency, the partner to the Australian Governor General, Her Excellency, Quentin Bryce, and he exercises this opportunity to bring attention to issues of design in Australia and internationally, among many other worthy causes.
About the Icogarda Achievement Award
Created in 2001, the Icogarda Achievement Award honours a distinguished career and is presented to an individual or team in recognition of outstanding and consistent achievment in the practice, education or promotion of communication design.
---
For more information, please contact:
Icograda Secretariat
e:
secretariat@icograda.org