ICOGRADA DESIGN MEDIA NETWORK WELCOMES ZUPI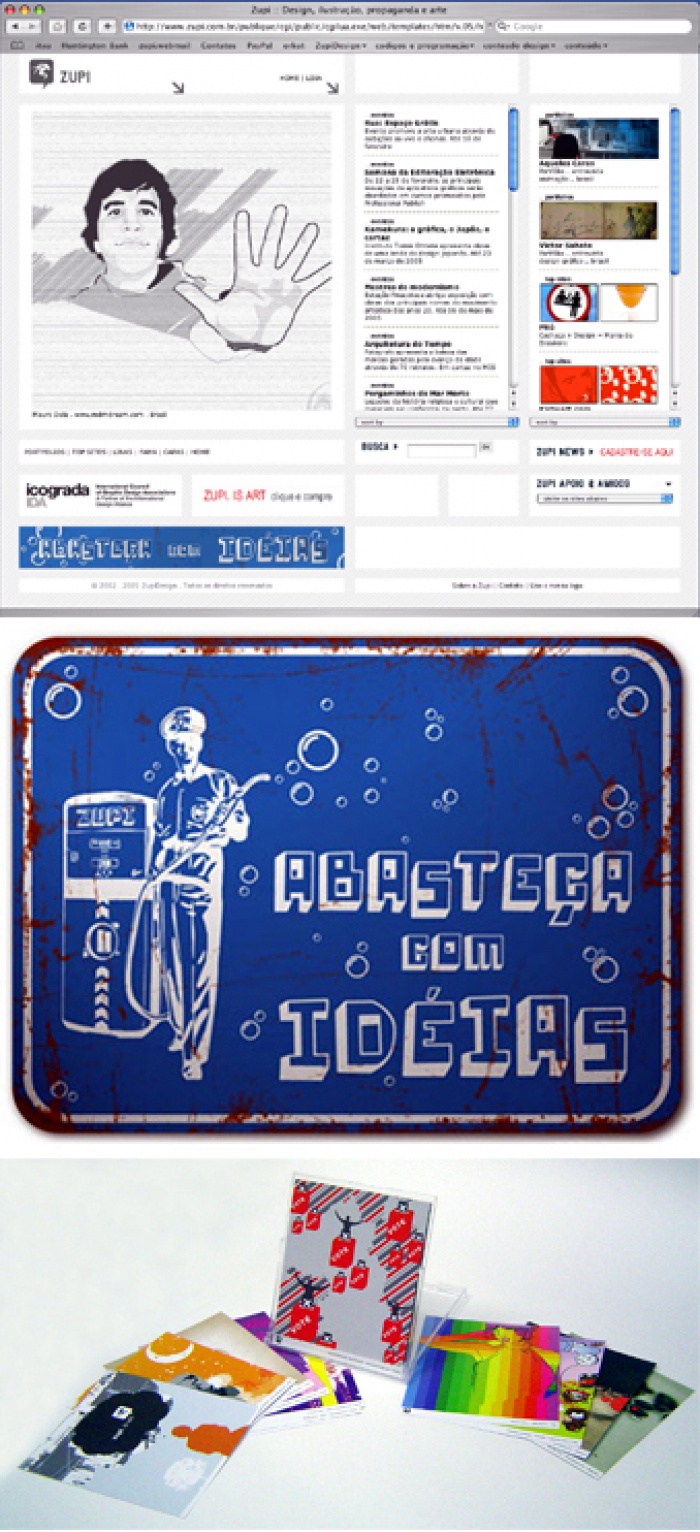 20.02.2005 News
Brussels (Belgium)
- The Icograda Design Media Network (IDMN) is pleased to announce the participation of Zupi in its international community of design media. Zupi is an online Brazilian design magazine. Its main objective is to inspire and promote talented designers in Brazil and in the world.
Created three years ago, Zupi will propose in a few months an English version of its magazine at
www.zupi.org
. Zupi's website proposes profiles of masters and graphic artists from around the world, a calendar of competitions, events, other sites of interest. Designers can also take part in Zupi's 'FAME' section and publish their picture, biography and 3 of their works.
Zupi has just published its first publication, a collection of artistic and experimental artworks from outstanding graphic artist from more then 12 countries.
Allan Szacher, Zupi's publisher, stated: "We have joined the Icograda Design Media Network because we believe we can help inspiring designers and the society. We want to help designers to have a better life and to produce qualitative and creative work. Moreover, we want to promote DESIGN itself as a form of art and culture. Zupi expects that Icograda's importance and influence will increase and grow every year, with more information exchange with designers from all the countries, races and religions in order to show and preserve artworks, commercial works and the history of Design."
---
For further information please contact:
Allan Szacher, publisher
E:
allan@zupi.org
About the Icograda Design Media Network
The Icograda Design Media Network (IDMN) brings the world's design media together in an online community - a single, convenient source in Formed by Icograda at the request of the international design media, the IDMN is dedicated to establishing and promoting standards and ethics in design journalism. It creates a forum for sharing ideas and information, fostering discourse among participants and with Icograda, and contributing to the furtherance of a meaningful body of knowledge regarding design and the role that design plays in modern society. Bona fide design media receive a free listing and a website link, provided as a service to the international design community. Design media publishers wishing to become IDMN Participants on a voluntary, no-fee, advertising-exchange basis may apply directly to Icograda - for an application/agreement contact the IDMN administrator at
admin@media.icograda.net
To see other publications participating in the Icograda Design Media Network, visit the .