ICOGRADA MOVES ITS HEADQUARTERS TO MONTREAL, CANADA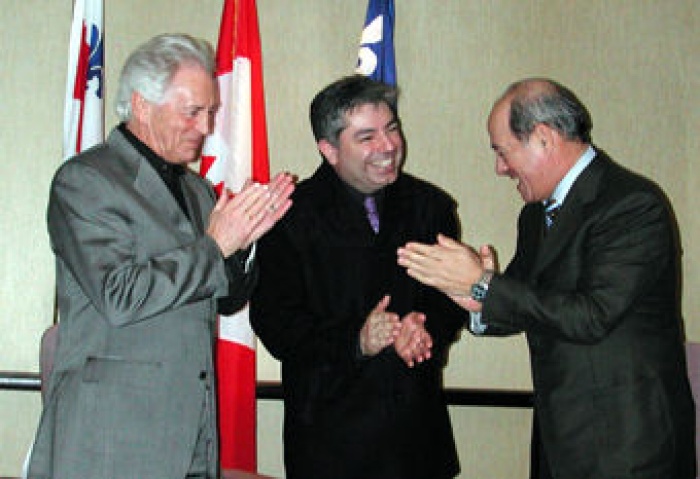 27.01.2005 News
Brussels (Belgium)
- On 16 January 2005, the International Council of Graphic Design Associations (Icograda) and the International Council of Societies of Industrial Designers (ICSID) took an historic step by signing a ten-year contract with Montreal International.* This agreement will allow the two international organisations to move their headquarters to Montreal, Canada, and open new opportunities for their development and mutual collaboration.
"The signing of the Memorandum of Understanding between Montreal International, Icograda and ICSID is an auspicious occasion that marks a significant moment in our history," says Mervyn Kurlansky, Icograda President. "We are grateful to the Government of Quebec, the Government of Canada and Montreal International, for their generosity and their commitment to host the secretariats of our two associations for the next ten years."
Growing out of the discussions surrounding Icograda and ICSID's partnership in the International Design Alliance (IDA), an international invitation was issued for bids for a Host City that would provide facilities for the two secretariats to be located under the same roof for a ten-year period. Such an arrangement would rationalise resources and communications efforts, and would lead to financial savings.
More importantly, as Kurlansky states: "This will enable Icograda and ICSID to realise their plans for closer institutionalised collaboration and the establishment of the IDA. Icograda and ICSID will continue to serve their specific design disciplines whilst the IDA will focus on being the collective voice for multi-disciplinary design in the world, achieving together that which the two organisations cannot achieve alone."
In August 2004, the Host City committee met in Essen, Germany. Six selected cities (Brussels, Copenhagen, Hong Kong, Montreal, Nagoya and Turin) made detailed presentations of their offer that were carefully reviewed by the Icograda/ICSID Host City evaluation committee. Montreal was selected as the winning bidder and the negotiations led to this historic agreement.
The Icograda Secretariat will be operational in Montreal on 1 March 2005 and the opening of the new premises is planned for May 2005.
For further information please contact:
Icograda Secretariat
secretariat@icograda.org
*Montreal International's mission is to contribute to the economic development of Greater Montreal and enhance its international status. Its vision has a twofold thrust: to help position Greater Montreal as a North American leader and to gain recognition as one of the most effective organisations of its kind. Montreal International is supported by private sector enterprises, the 63 municipalities of the
Communaute metropolitaine de Montreal
, the City of Montreal and the Governments of Quebec and Canada. For more information, visit:
www.montrealinternational.com