IMAGINATIONS ANIMATED AT GRAFICEUROPE BERLIN, 14-16 OCTOBER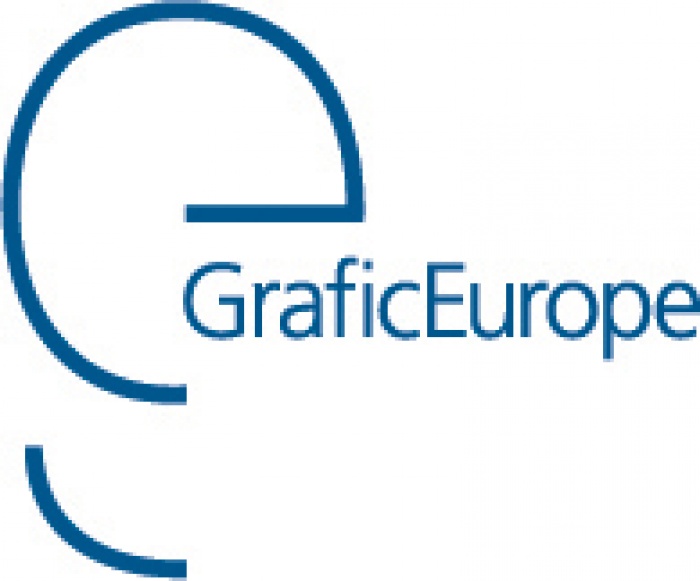 09.11.2004 News
Berlin (Germany)
- More than 400 creative professionals from across the globe converged in Berlin 14-16 October 2004 for the second instalment of GraficEurope, sponsored by Hewlett-Packard and Adobe, and presented by RotoVision and Rockport Publishers, leaders in graphic design publishing.
The high-velocity and dense programme of almost thirty speakers, comprised both multidisciplinary innovators such as Kim Horthoy alongside established luminaries such as Alan Fletcher and Peter Saville. The venue, designed in 1964 by the Bauhaus-influenced GDR architect Hermann Henselmann, provided a stunning backdrop for a visual feast of typefaces, posters, magazines, books, film titles, music packaging, branding projects, digital design and fashion designed by some of the most extraordinary graphic design practitioners and thinkers at work today.
The main themes - craft and locality - provided much food for thought. Rick Poynor launched proceedings by exploring the local/global dichotomy, lamenting the profusion of "visual signatures" - global brands, pop music, hotel chains, software and celebrity worship - that dominate our "placeless urban spaces", and highlighting the danger of the "removal of critical faculty in favour of the comfortable", and "passive" over "individual action". Ultimately he proposed a reinvestigation of a more intimate and authentic craft, in which "every handmade mark shows that someone was on that spot."
The necessity for designers to be challenged was echoed by John C Jay of Wieden + Kennedy, Tokyo, who maintained that to remain creative, one must "never be comfortable". On the subject of craft and authenticity, Jay proposed that "the myth of originality is central to post-modernity", and asserted that in Japan, western notions of originality and intellectual property are disregarded". The fascinating and widespread social practice of "Doujinski", in which copyrighted Manga cartoons are copied, re-worked and exchanged, was cited as one such example of this disregard, with Jay concluding that culture and design in Japan - driven to a large degree by Manga and Anime - are becoming the predominant vehicle to "drive ideas through society".
The influence of locality was certainly more apparent in the work of particular speakers. Like John C Jay, Paula Scher, Kim Hiorthoy, Daniela Haufe and Detlef Fiedler of cyan and Ed Fella all shared a strong connection to place. Scher suggested that her frequent use of elongated vertical typography and loud, in your face graphics, mimicked and reflected the New York skyline and the omnipresent neon lights and sounds permeating her everyday experience. Hiorthoy in turn reflected on his roots in Trondheim, Norway, and how his view of the town's influence has changed over time - from being a peripheral place, both in terms of geography and experience, to recognizing it as the original source of his energy and inspiration. Cyan's photographic collage of Berlin also indicated a deep connection with the morphing geographical and political landscape of the city, whilst Ed Fella's upbringing in Detroit and obsession with American signs were clear influences on his "commercial art" and hand-drawn typography.
The personality and drive of the speakers was infectious. Alan Fletcher talked of the "seamlessness" of work and life, and there was a strong sense of the formal boundaries of "paid work" and "personal work" being blurred. Many of the speakers also expressed the urge to document ideas and experiences, using notebooks and photography - the result being the accumulation of a staggering body of creative work.
Humour and wit regularly punctuated the conference. Notable examples were Erik Kessels' marketing campaign for the Hans Brinker Budget Hotel in Amsterdam, production designer Peter Giardi's "Crank Yankers" - a twisted town of crack-pot puppets produced for Comedy Central in the U.S. - and Alan Fletcher's personal, ironic and quirky pieces, including a pencil sculpture entitled One Year's Study of Irritation - each pencil representing a moment of irritation! Fletcher's Lost Dog poster was also amusing. Listing the dog's numerous ailments, missing limbs and one eye - it ended with the sentence, "answers to the name of Lucky". You had to be there.
In addition to the main stage programme, delegates had the opportunity to take part in more intimate parallel sessions in which panels of speakers debated and discussed conference themes in further detail; to attend hands-on training sessions provided by Hewlett-Packard and Adobe, and to gain information and advice from all of the conference sponsors - Hewlett-Packard, Adobe, ArjoWiggins, G&B Printers, Aquent, Enfocus, Wacom, Creatas, Linotype Library and Strandperle - at their stands.
Other conference highlights included the
Public Address System
exhibition, presented by the Henry Peacock Gallery, and
Emerging Designers
, an exhibition sponsored by Aquent, celebrating some of the most talented young designers today. The Hewlett-Packard poster competition was also a great success. Delegates were asked to submit work designed on-site, based on the conference themes. Prizes included an HP printer, Adobe software, and a Wacom tablet. (CD of competition entries available)
Not forgetting the need for relaxation, delegates had plenty of opportunity to refuel and reflect on their experiences in the buzzing resource centre, and the welcome party held at the Hamburger Bahnhof, sponsored by Creatas, provided a magnificent setting for kicking back, networking and enjoying the Berlin vibe.
Ken Fund, President and CEO of RotoVision and Rockport Publishers commented, "The event met all of our expectations. The speakers delivered a strong programme, the sponsors delivered expertise to the delegates in a relaxed atmosphere, and the city of Berlin had a great deal to offer."
Join us for the next GraficEurope to be held in Budapest, Spring 2006!
This year's delegates can receive a 45% discount for the next conference by visiting the GraficEurope website.
For further information please contact:
www.graficeurope.com