kolla! | swedish design award celebrating "courage and failure"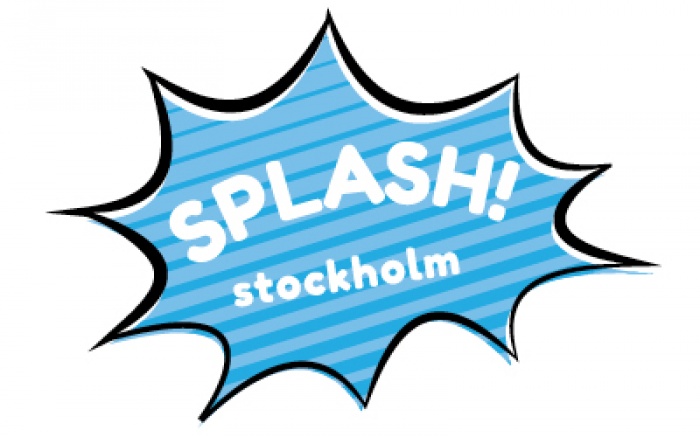 18.08.2015 Features
Photo credits: Jenny Gustafsson
article by Jenny Lindahl, Managing Director of

There are a few other major design awards in Sweden, but Kolla! has it's own unique identity and brand. Every second year, Svenska Tecknare (The association of Swedish illustrators and graphic designers) presents the Kolla! design awards. ST started Kolla! in 2003 in line with our overall mission: to highlight and strengthen creators and make the profession more visible. The status and the value that good design or illustration can give, is not necessarily reflected in fee levels, respect and status that benefits the creator.

What distinguishes Kolla! from other design competitions? The main difference lies in its purpose, its audience, and what is rewarded.

"The purpose of the Kolla! is to highlight and make visible professionals that only rarely get their names in big fonts on the book covers, posters and products they designed and illustrated."

The target group for Kolla! is to a fairly large extent aimed at the industry and business of designers and illustrators. We have found that there is far too little praise of designers, its's rare to be praised by colleagues and design peers, and we are largely lacking forums to acknowledge how important it is for the industry to use art and design in a good way - and to foreground how crucial the creator is for achieving great results.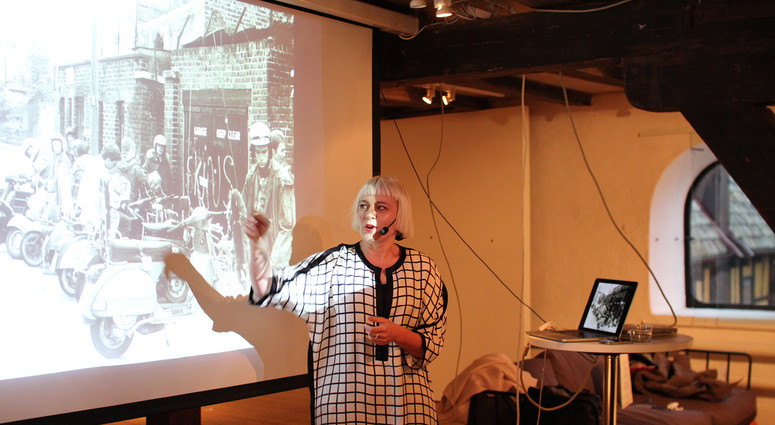 Morag Myerscough, speaker at Kolla! talk in Malmö.

We have chosen to focus on making Kolla! as important and urgent as possible amongst all who work in the business of design and arts as a first step. Only when we take ourselves and each other seriously, the rest of the world will. Kolla! wants to highlight the quality and craftsmanship in the profession, but also specifically recognize and reward work that is pushing the field forward.

But what is most important? Is there any contradiction between the two? Is good workmanship more important than innovation and breaking new ground? Can Kolla! be better at strengthening those who move across borders, break boundaries, who dare to take risks, to develop new approaches and technologies? Can Kolla! open up new ways of looking at design and illustration, and strengthen those who dare to be different?

The answer to those questions in last year's Kolla! was to open up a special category: Courage and Failure. This also became the theme of the year. A common experience of all who work in the industry is the experience of unsuccessful pitching - everything from ideas to the finished job being thrown in the trash by customers!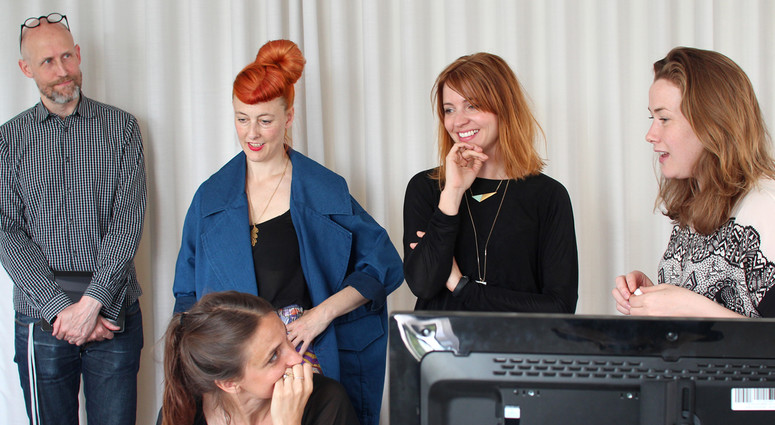 Members from The Graphic Design jury for Kolla! 2014 at work: From the left: Lars Fuhre, Art Director and Graphic Designer; Michaela Green, Senior Designer at Amore Brand Identity Studios. Hanna Moe, Senior Brand Designer of Snøhetta Architecture and Brand Design; Cecilia Lindgren, Art Director, Graphic Designer and Illustrator. Photo credits: Jenny Gustafsson

The reality of being a designer is that you need a lot of courage. It is the nature of the profession and anyone who wants to be creative must be brave. Failure, of course, is an integral part of creativity, and courage essential to both dare to fail and to dare to move boundaries and stepping over barriers.The consequence is that most successes are flanked by a series of failures, and the fear of not being well received, or not having worked well enough. It can certainly (sometimes) make us less brave. This is why we wanted to reward courage and failure with the Kolla! Design Award.
Kolla! 2014
Every second year, Svenska Tecknare presents the Kolla! design awards. In 2014 the award ceremony took place at the Swedish Centre for Architecture & Design in Stockholm, November 12. In spring 2014 the three Kolla!-jurys met to decide who would win the Kolla! award 2014.
The Illustration-jury:
Martin Bergström, artist, illustrator, designer och scenograph, Julia Thorell, illustrator and cartoonist, Isabelle Dahlborg Lidström, Creative Director on NINE, Eva Eriksson, illustrator and author, Ulrika Dalin, manages Colony Art Buying.

The Graphic Design-jury
Hanna Moe, Senior Brand Designer of Snøhetta Architecture and Brand Design; Cecilia Lindgren, Art Director, Graphic Designer and Illustrator; Lisa Careborg, Creative Director and partner at Happy F&B; Lars Fuhre, Art Director and Graphic Designer; Michaela Green, Senior Designer at Amore Brand Identity Studios.

The Moving Image jury
Carl-Johan Listherby, Creative Director at Naive, Ted Persson, Creative Director at Great Works, Andrea Eckerbom, Director at Tangrystan and Hobby film, Karin Peterson, Creative Director at Chimney, Decida, Director, AD, CD, 2FACED1-grundare, Coreograph, Stylist etc.

Kolla!' theme this year was Courage & Failure and Hall of Femmes curated two Kolla! talks on the topic: One at Malmö at Form/DesignCenter with Morag Myerscough, a London designer who specialises on 'place-specific design', and a second talk by Mari Randsborg, an architect and graphic designer working at e-Types Group in Copenhagen.

The other Kolla! talk preceeded the price ceremony on the same topic with participating speakers: Rosmarie Tissi, a reformer of the Swiss School style and member of Alliance Graphic Internationale since 1974, Maria "Decida" Whalberg, 'Creative Director, Video Director, Choreographer and Stylist. She has created innovative projects, looks, moves, videos and performances for artists such as Robyn, Snoop Dogg and Neneh Cherry, and Anna Eliasson Lundquist - expert and consultant within leadership and career development.

The Kolla! ceremony was led by Susanne Ljung from Swedish Radio´s program Stil (Style). Two swedish music artist performed: Asha Ahli and Zhala.

Among the winners were Swedish artist Jockum Nordström, Creative Director Stefania Malmsten and Art Director Susanna Barett Nygren, and Illustrators Emma Eriksson, Noel Pretorius and Marcus-Gunnar Pettersson.
splash! stockholm .
Svenska Tecknare ico-D Member page here.
Svenska Tecmnare official website here.