MOUSHARAKA: ICOGRADA DESIGN WEEK IN QATAR HOSTS SUCCESSFUL FIRST DESIGN DEBATE DOHA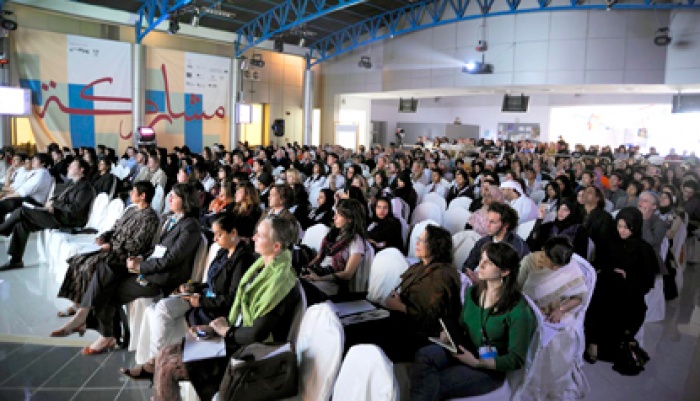 04.03.2009 News
Doha (Qatar)
- Virginia Commonwealth University in Qatar in partnership with Icograda concluded day four of the with the first of its kind in the world - Design Debate Doha.
On 3 March 2009, the much anticipated Design Debate Doha saw a packed atrium debate on the topic "This house believes 'Globalisation harmfully subverts culturally unique sensibilities.'"
Panelists for the motion included writer and design critic from the UK, Rick Poynor; Dr. Sami Angawi, Founder and General Director of the AMAR Center in Saudi Arabia; and Australian educator and designer, Russell Kennedy.
Above: Poynor, Kennedy and Dr. Angawi, panelists for the motion in Design Debate Doha.
Panelists against the motion included Qatari architect, Ibrahim Jaidah; Roger Mandle from the Netherlands, Head of the Qatar Museums Authority; and Petra Blaisse, founder of design studio Inside Outside.
Above: Jaidah, Blaisse and Mandle listen to Dr. Angawi speak for the motion.
Both sides put forward very strong arguments for their case and the audience asked questions which were just as passionate.
Results
In the end the audience voted 47% for the motion and 53% against.
The debate was moderated by Al Jazeera English presenter, Kamahl Santamaria.
Above: Moderator, Santamaria, with Jaidah and Blaisse, panelists against the motion in Design Debate Doha.
Mousharaka: Icograda Design Week in Qatar
, presented by VCUQatar from 28 February - 5 March 2009, is composed of an Education Symposium and Professional Conference, where prominent speakers will share perspectives on design and design collaborations.
---
For more information on Mousharaka, please contact:
Donna Duffett
Events Coordinator, VCU Qatar
Icograda Design Week
PO Box 8095
Doha, Qatar
T: +974 492 7245
F: +974 481 7058
E:
dduffett@qatar.vcu.edu
W:
www.mousharaka.com
About Virginia Commonwealth University in Qatar
Established in the United States in 1838 and in Qatar in 1998, Virginia Commonwealth University offers students from all over the world the opportunity to earn Bachelor of Fine Arts degrees in fashion, graphic and interior design. A team of highly skilled professors provide rigorous curricula that prepare students to assume leadership roles in the professional design field of their choice.
www.qatar.vcu.edu
About Qatar Foundation for Education, Science and Community Development
Founded in 1995 by His Highness Sheikh Hamad Bin Khalifa Al Thani, Emir of Qatar, and chaired by Her Highness Sheikha Mozah Bint Nasser Al Missned, Qatar Foundation is a private, non-profit organization committed to the principle that a nation's greatest natural resource is its people. The headquarters of Qatar Foundation are located within its flagship project, Education City, hosting numerous progressive learning institutions and centers of research.
www.qf.org.qa
About Icograda
Icograda (the International Council of Graphic Design Associations) is the world body for professional communication design. Icograda promotes communication designers' vital role in society and commerce and unifies the voices of graphic designers and visual communicators worldwide. The vision, mission and core values of the Council are collectively embodied in the statement 'leading creatively' and manifested through our Members' diverse activities to use design as a medium for progressive change.