:OUTPUT STUDENT COMPETITION CALLS FOR INPUT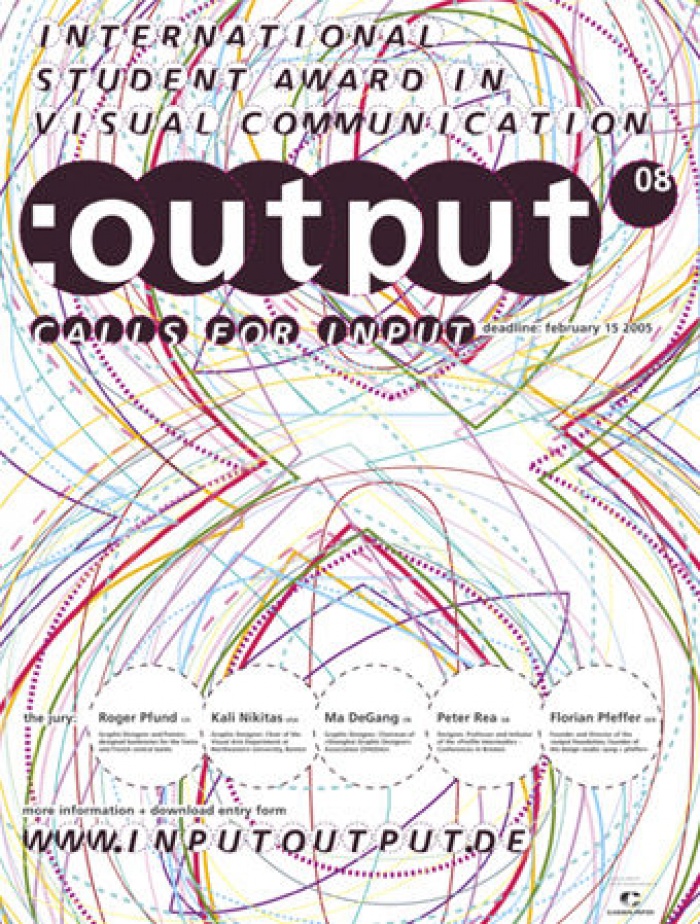 12.01.2005 News
Amsterdam (The Netherlands)
- :output* - one of the biggest international competitions for students of visual communication - invites students to submit work related to an area of Visual Communication (such as Graphic Design, Typography, Photography, Illustration, Typeface Design, Multimedia and Moving Image). Works selected by the international jury will be published in the yearbook :output. The publication creates a forum for students and their work, and provides readers with access to design originating from different countries and cultures. Entry deadline is 15 February 2005. For more information, visit
www.inputoutput.de
The new :output competition has started
Works of graphic design carried out by students usually disappear into drawers after presentation to a relatively small college audience. There the work remains invisible to outside eyes. :output wants to change that. The :output competition for students of visual communication awaits your input!
What can you submit?
Any work related to an area of Visual Communication is eligible for submission, including: Graphic Design / Typography / Photography / Illustration / Typeface Design / Multimedia, Moving Image and Television Graphics.
The jury
Again this year an international jury will select the works to be published in the yearbook :output 08, and present the gold, silver and bronze awards for extraordinary work:
- Roger Pfund, Carouge, Switzerland
- Kali Nikitas, Northeastern University, Boston, United States
- Ma DeGang, Today Design, Shanghai, China
- Peter Rea, Profile Intermedia, London, UK/Bremen, Germany
- Florian Pfeffer, :output, Amsterdam, The Netherlands/Bremen, Germany
The deadline
15 February 2005
---
For further information please contact:
:output foundation
Keizersgracht 8
1015 CN Amsterdam
The Netherlands
T: 0031.(0)20.427 90 20
F: 0031.(0)20.627 44 77
W:
www.inputoutput.de
*:output magazine is a participant of the .