Poster for tomorrow seeks assistance to host more pan Africa workshops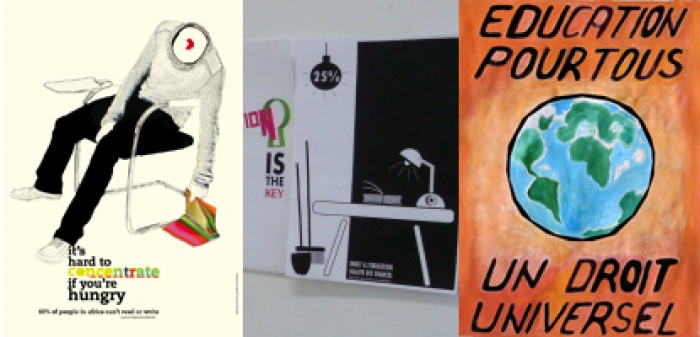 22.05.2011 News
Paris (France) - For their 2011 edition 'the right to education,' poster for tomorrow has organised the 'pan African workshops' series to give young African design and art students the chance to work with leading graphic designers. In support of their efforts to organise even more workshops, they've released a video from their workshop at École supérieur des arts visuels Marrakech (Morocco).
They're already successfully held workshops in South Africa, Tunisia, Guinea, Ghana and Morocco, with more to come. The goal is to provide young African designers with a set of tools and contacts that will give them better access to the international market, and to set up a longer-term platform for design in their own countries.
Each designer leading a workshop is donating their time but the average cost for each workshop is still EUR 3000. The majority of these costs are travel expenses and accommodation (if it's not possible to stay at the partner university). As a non-profit organisation, poster for tomorrow does not make money from these workshops.

The workshops held to date have each had unique challenges and outcomes, but share the common thread of enthusiasm among students who participated.
---
To help fund more pan Africa workshops, please contact Herve Matine: hm@posterfortomorrow.org
For more information, please contact:
poster for tomorrow
8 Rue Myrha
75018 Paris
France
T +33 1 53 41 41 51
E info@posterfortomorrow.org
About poster for tomorrow
poster for tomorrow is an independent, non-profit international project whose goal is to encourage people, both in and outside the design community, to make posters to stimulate debate on issues that affect us all. In our previous two editions we have received over 4,000 posters from 81 countries and hosted more than 70 exhibitions in 5 continents. In 2011 we are fighting for the right to education for all. The poster competition is free to enter and is open for entries until 10 July 2011. You can find more information at posterfortomorrow.org.
Download the brief (PDF) for the 2011 competition.