Prof. Erik Spiekermann receives Lifetime Achievement Award at the Design Award of the Federal Republic of Germany 2011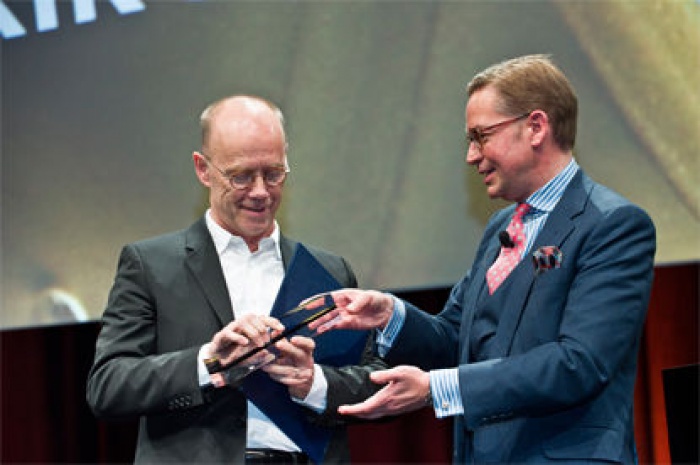 12.02.2011 News
Frankfurt (Germany)
- Erik Spiekermann is this year's recipient of the Lifetime Achievement Award of the Design Award of the Federal Republic of Germany. The award was presented at a ceremony in Frankfurt on 11 February.
Johannes Erler of Factor Design, who interned at Spiekermann's MetaDesign in the early 1900s, has written an
engaging profile
of the prolific designer and typographer, and the man he describes as "the communication powerhouse."
"A font constitutes a nation's culture. Good architecture, good food and good timetables are at stake!"

The Design Award is sponsored by the Federal Ministry of Economics and Technology and given for exceptional international achievements in the field of product design as the "Federal Prize for Good Form" for the first time in 1969. Since 2006, it has been presented annually under the name "Design Award of the Federal Republic of Germany" and is given for outstanding achievements in the fields of product and communication design, as well as to a celebrity from the world of design. Since 2010, an additional endowed prize to encourage up-and-coming new talent has been awarded to a young designer.
Nominations for the Design Award are submitted by Ministries for Trade and industry or Senators of the German states or by the German Design Council on behalf of the Federal Ministry of Economics and Technology.
---
For more information, please contact:
Rat für Formgebung/ German Design Council
Ludwig-Erhard-Anlage 1
60327 Frankfurt am Main
T: +49 69 74 74 86
W:
About the German Design Council
The German Design Council (Rat für Formgebung) was founded as an initiative of the German Federal Parliament in 1953 to meet the growing need of the business world for information about design. Today, the German Design Council is one of the world's leading competence centres for communication and know-how transfer in the design field. With competitions, exhibitions, conferences, consulting, research and publications, we offer new perspectives for representatives of business and design disciplines.

www.german-design-council.de