Tasmeem Doha 2011 speakers include Amal Al-Mehain, Dr. Naif Al-Mutawa and Fiona Raby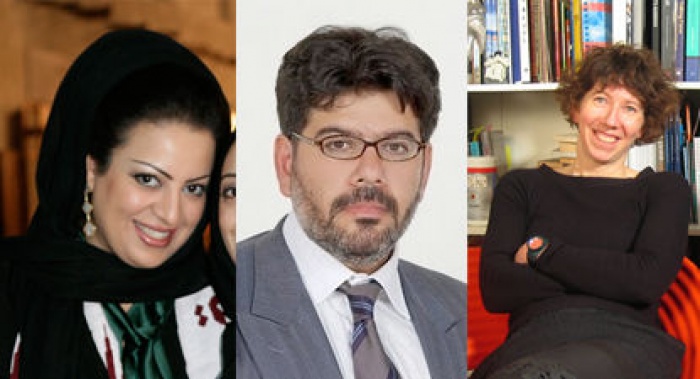 14.03.2011 News
Doha (Qatar)
- is pleased to announce the participation of Amal Al-Mehain, Dr. Naif Al-Mutawa and Fiona Raby as inspirational speakers for the Tasmeem Doha 2011 – 'Synapse: Designer as Link' conference. Tasmeem Doha 2011 will take place at VCUQatar from 21-24 March 2011.
Amal Ameen Al-Mehain
is a design pioneer for Arab women in the region. Carving out a space for design within a larger corporate structure, Al-Mehain literally created a design culture from the inside out. She not only creates and makes for her own company, but she also reaches out and links with other companies to form fruitful design partnerships. She is a true innovator, developing her own innovative practice appropriate to the modern and successful Qatari business-woman.
At Tasmeem 2011, Al-Mehain will represent the principal link for design in Qatar. She is uniquely positioned to articulate her experiences and insight into the capacity of design to link people and knowledge in order to create a design culture with a distinct identity. "Al-Mehain creates work that is beautiful, functional, and incorporates community conscious design and has the capacity to empower students to cultivate a healthy and progressive design culture in Qatar and to bring design action to its full potential in the region," said Meike Kaan, executive director of Communications at VCUQatar.
Graduating with a Bachelor of Fine Arts degree in Interior Design from VCUQatar, alumna Amal Al-Mehain currently leads the Design Department at Barwa Media. Examples of her work include the International Furniture and Design Exhibition and Qatar Real Estate Exhibition booth designs, the graphic identity for Qatari rally driver Nasser al-Attiyah, design projects for multi-utility service provider Marafeq, the Barwa Media website, and the famous Barwa and Diar taxi advertising campaigns in London.
The critically acclaimed work of
Dr. Naif Al Mutawa
links multiple arenas: culture, religion, design, psychology, sociology, and more. The success of The 99 graphic novels shows the capacity of creative design to further the development of cross-cultural understanding and to bridge generational and religious divides in meaningful ways. Dr. Al Mutawa's work aligns perfectly with Qatar's vision of social development as the nation seeks to construct a narrative that permits religious and cultural openness, understanding and tolerance among diverse peoples.
Dr. Naif Al-Mutawa is a Kuwaiti clinical psychologist and creator of THE 99, the first group of comic superheroes born of an Islamic archetype. Recently, Forbes named THE 99 as one of the top 20 trends sweeping the globe and most recently, President Barack Obama praised Dr. Al-Mutawa and THE 99 as perhaps the most innovative of the thousands of new entrepreneurs viewed by his Presidential Summit on Entrepreneurship.? ?Dr. Al-Mutawa is the clinical director of The Soor Center for Psychological Counseling and Assessment, Kuwait's leading professional source of a broad range of psychological services. He has a PhD in Clinical Psychology from Long Island University where he also earned a Masters Degree in Clinical Psychology. He holds a Masters in Organisational Psychology from Teacher's College, Columbia University and an MBA, also from Columbia University. He earned his undergraduate degree from Tufts University, where he triple majored in clinical psychology, English literature and history. He received the Eliot-Pearson Award for Excellence in Children's Media from Tufts University, the United Nations Alliance of Civilisations "Marketplace of Ideas" Award, and The Schwab Foundation Social Entrepreneurship Award presented at the 2009 World Economic Forum.? ?In the last few decades, Qatar has experienced what can only be described as a process of hyper-modernisation. As a futurist thinker, Fiona Raby wields the requisite experience and background to provide a special kind of insight into the future of Qatar and to see VCUQatar as a fruitful site for forward-looking ideation.
Fiona Raby
is a partner in the design practice Dunne & Raby alongside Anthony Dunne. Dunne & Raby use design as a medium to stimulate discussion and debate amongst designers, industry and the public about the social, cultural and ethical implications of existing and emerging technologies. Their work has been exhibited and published internationally and is in the permanent collections of MoMA, the Victoria & Albert Museum, Frac Ile-de-France and Fnac (Fond national d'art contemporain), as well as several private collections. A classic innovator, Raby combines materials and methods to produce unusual, clever and poignant designs destined for the product shelves.
Raby studied Architecture at the RCA before working for Kei'ichi Irie Architects in Tokyo. She also holds an MPhil in Computer Related Design from the RCA. She was a founding member of the CRD Research Studio where she worked as a senior research fellow leading externally funded research projects. She taught in Architecture for over 10 years before teaching in Design Interactions.
Tasmeem 2011 "Synapse: Designer as Link", with 14 speakers and 14 workshops, is interdisciplinary and collaborative, aiming to forge dynamic links between students, creative problem solvers, local community members, community stakeholders and VCUQatar. Tasmeem 2011 is situated as a working conference, featuring student driven teams investigating the role of design as a problem solving activity that tackles community issues, our daily life-worlds and future concerns. Conference activities are designed to generate awareness, raise important questions and provide meaningful, realisable solutions.
---
For more information, please contact:
Tasmeem Design Conference
VCUQatar
PO Box 8095
Doha, Qatar
T: +974 4454 0544
E:
vcuqevents@qatar.vcu.edu
W:
www.tasmeemdoha.com
About Virginia Commonwealth University in Qatar:
is the Qatar campus of the prestigious Virginia Commonwealth University School of the Arts in Richmond, Virginia, United States and is a fully accredited highly ranked art and design program in the Middle East. Established in 1998 through a partnership with Virginia Commonwealth University and the Qatar Foundation, VCUQatar offers students the opportunity to earn a Bachelor of Fine Arts degree in fashion, graphic, interior design and painting & printmaking and a Master of Fine Arts degree in design studies. VCUQatar is a center of excellence for education and research in art and design. Through its programs, the university develops individual capacity to lead innovations in the creative and cultural professions in Qatar and the region. Throughout the year, VCUQatar organises and hosts exhibitions, lecture series, conferences and an annual fashion show. VCUQatar is a member of the Icograda Education Network.
www.qatar.vcu.edu
Qatar Foundation – Unlocking Human Potential
Qatar Foundation for Education, Science and Community Development is a private, non-profit organisation that is supporting Qatar on its journey from carbon economy to knowledge economy by unlocking human potential for the benefit of not only Qatar, but the world. Founded in 1995 by His Highness Sheikh Hamad Bin Khalifa Al-Thani, Amir of Qatar, QF is chaired by Her Highness Sheikha Moza bint Nasser. QF carries out its mission through three strategic pillars: education, science and research, and community development. QF's education pillar brings world-class universities to Qatar to help create an education sector in which young people can develop the attitudes and skills required for a knowledge economy. Meanwhile, its science and research pillar builds Qatar's innovation and technology capacity by developing and commercialising solutions through key sciences. Finally, its community development pillar helps foster a progressive society while also enhancing cultural life, protecting Qatar's heritage and addressing immediate social needs in the community.