Walter Jungkind Receives Icograda Achievement Award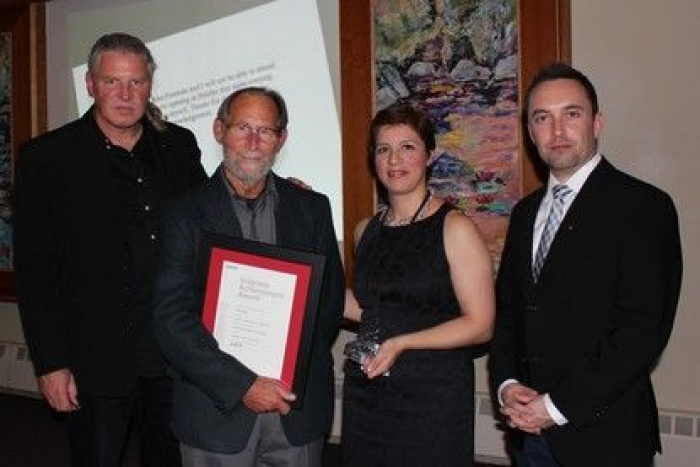 27.11.2012 News
(Alberta, Canada) - On the evening of Friday, October 19 2012, close to 70 designers, colleagues, friends, former students and family members gathered in Edmonton, Alberta at an event hosted by the GDC Alberta North Chapter to honour Walter Jungkind on his receipt of the Icograda Achievement Award. Many other friends and colleagues from across Canada, and around the world, sent congratulatory messages.

The formal program started with presentations by Ana Herrera, President of GDC Alberta North and MC She spoke of Walter's contributions to Canadian design education, his international reputation, and thanked him for his continuous involvement with the GDC Alberta North as member and advisor and for inspiring designers to participate with the GDC regardless of age.

Adrian Jean, GDC National President, flew in from Ottawa to speak on behalf of the National organisation. In his address, he spoke of the importance of Walter's commitment to a higher professional standard, which is about growing the creative community to which you belong, and strengthening the future, so that a new generation can benefit and prosper.

Robert Peters, Past President of Icograda, flew in from Winnipeg to present the award to Walter on behalf of Icograda.

With the help of a great visual presentation, he put Walter's life into context, decade by decade, highlighting his professional experience from Zurich to London and then Edmonton. Robert pointed out how Walter "introduced the civilising effect that design logic and legible typography can have in a frontier setting. Through Walter's instrumental participation in the establishment of the visual communication design program, many consider him to be the 'father of graphic design' in Western Canada.

"Walter is a Mensch, a mentor, a friend and inspiration. He makes a lasting impression on people he meets, everywhere on the planet. It gives me great honour to present, on behalf of both GDC and Icograda, the Icograda Achievement Award!"

Walter accepted the award and thanked the guests for taking time to attend, especially those who traveled across Canada.

He spoke of his arrival in Edmonton and of his participation in making the GDC a national organisation by approaching design organisations in Eastern Canada and working together to create the first true national organisation in order to bring the first Icograda Education Conference to Canada.

The final presentation of the evening was made by Nada Zeljkovic, one of Walter's former students, who shared her anecdotes and memories of her time learning from Walter and "living and designing within the grid." Her presentation more particularly highlighted Walter's witty sense of humor.

By Ana Herrera, with contributions from Adrian Jean and Robert Peters.

---
About :

Founded in 1956, GDC is the Canadian national organization for professional graphic designers and represents more than 1300 of Canada's leading practitioners. It has nine regional chapters including Vancouver Island, BC Mainland, Alberta North, Alberta South, Saskatchewan North, Saskatchewan South, Manitoba, Arctic and Atlantic Chapters. It is also affiliated with the Societe des designers graphiques du Quebec (SDGQ) and University and College Designers Association (UCDA). The Registered Graphic Designers of Ontario (RGD Ontario), the first accredited body of graphic designers in North America, was created by the GDC in 1996 and was a Member Association of the GDC until 2003.

As a part of its mandate, GDC provides certification, professional development and networking opportunities and helps educate students and the public at large about the work done by graphic designers and the value of graphic design.