2009 SEGD DESIGN AWARD WINNERS: ACTIVATING PUBLIC SPACES WITH ENVIRONMENTAL GRAPHIC DESIGN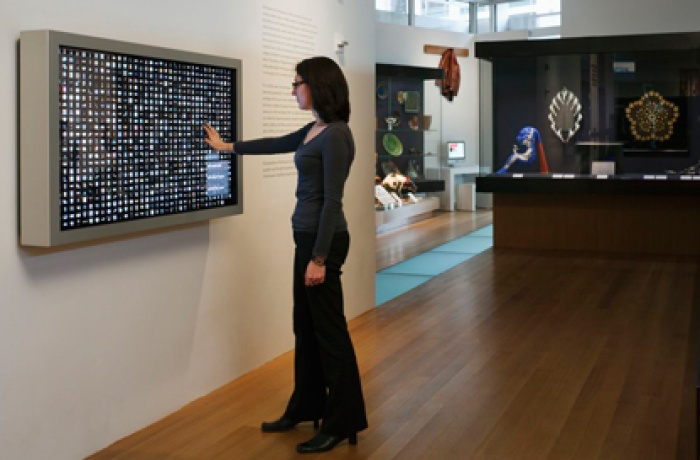 30.06.2009 News
Washington, DC (United States)
- Pedestrian-centered improvements to the Brooklyn Bridge, a light installation at a bus terminal in Hell's Kitchen, and supergraphic portraits of Irish literati at the Dublin Airport were among the winners in the 's (SEGD)
2009 Design Awards Program
, and Icograda endorsed awards scheme.
These and other winning projects show how even the most mundane of public spaces-bus terminals, decrepit harbourfronts, airport concourses, and neglected parks-can be activated using environmental graphic design.
"By employing typography, symbols, colour, light, and new media, we can design urban interventions that dramatically improve some ignored parts of the public environment," says Peter Dixon, senior partner/creative director of the New York strategy, innovation, and design consultancy Prophet and chair of the 2009 SEGD Design Awards Program. "Environmental graphic design can have a very powerful impact in these spaces."
Above: Cathedral of Christ the Light (Oakland, California), an Honour award winner. Architecture and environmental graphic design by Skidmore, Owings & Merrill LLP.
The 40 winning projects represent a diverse, international array of work at the confluence of graphic design, interior design, architecture, communications, landscape architecture, and new media. The annual awards program, established in 1987, is sponsored by SEGD (the Society for Environmental Graphic Design), an international nonprofit educational foundation providing resources for professionals working at the intersection of communication design and the built environment.
The record-breaking 430 entries in the 2009 program reflect how environmental graphic design (EGD) has matured as a discipline and plays an increasingly important role in the design of human-centered public spaces. "Award-winning EGD has reached a new level and the bar is very high," says Dixon. "We also noted the increasing convergence of digital media and environmental graphics, and how they each enrich the other."
SEGD's 2009 Design Awards Program was also its most international to date, with a record number of international entries and winning design teams from Reykjavik, Iceland, to Mexico City.
Above: Erie Basin Park (Brooklyn, New York), a Merit award winner. Design by Russell Design.
The design awards were juried by a multidisciplinary team representing architecture, environmental and experience design, exhibition design, and retail and healthcare environment planning and design. In addition to Dixon, the jurors included: Lars Uwe Bleher, managing director of Atelier Markgraph (Frankfurt) and faculty member in architectural design and digital design media at the University of Oregon; Sue Gould, principal of Lebowitz|Gould|Design (New York); Tim Love, principal of Utile and associate professor at Northeastern University School of Architecture (Boston); Linda Raker, senior project manager for national facilities development at Kaiser Permanente (San Francisco); Stephanie Reyer, director of exhibitions at the National Constitution Center (Philadelphia); and Kathy Wesselman, principal of wpa inc.(Seattle).
Seven Honour awards, 33 Merit awards, two Jury awards, and one award for Doing a Lot with a Little were recognised at a 30 May ceremony during SEGD's 2009 Conference + Expo, held 27-30 May in San Diego.
For the complete list of winners, (PDF - 232KB).
For more detailed information on the award-winning projects, including more images, project descriptions, and jury comments, visit
www.segd.org
.
---
For more information, please contact:
Ann Makowski
Society for Environmental Graphic Design
T: +1 202 638 5555
E:
ann@segd.org
W:
www.segd.org
About SEGD
Founded in 1973, the Society for Environmental Graphic Design is the global community of people working at the intersection of communication design and the built environment. Through educational programs, research, and publications, SEGD's mission is to increase awareness of the environmental graphic design community, promote the importance of the discipline in establishing place, and continue to refine standards of practice for the field.