ATYPI HELSINKI CALL FOR PAPERS - DEADLINE EXTENDED TO APRIL 14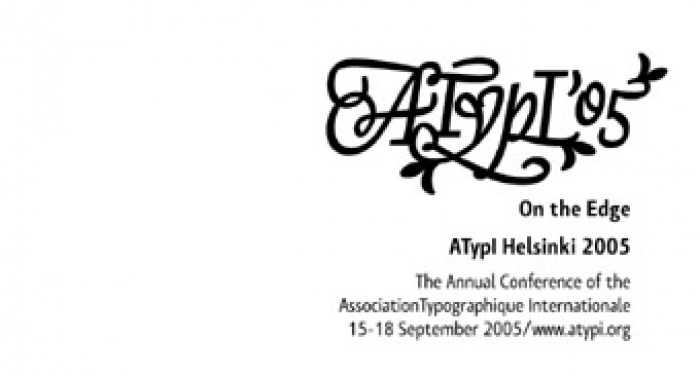 31.03.2005 News
West New York (United States)
- ON THE EDGE: This is type on the northern edge of Europe and the edge of the Baltic Sea; type of the Nordic and Baltic cultures and languages. This is type on the forward edge of technology: type on television screens; type embedded in telephones; type circling around the world. This is type on the edge of a global culture: type as a medium of change and also of preservation; type as a carrier of cultures. And this is type on the edge of design: type as form and content; type as an idea, and type as an activity.
The Board of Directors of ATypI is proud to note that the ATypI Conferences are sponsored by many of the leading companies in the graphic arts and computer business. Early sponsorship for Helsinki comes from the Microsoft Corporation.
Keynote: The keynote speaker for ON THE EDGE is Aaron Marcus is President of Aaron Marcus and Associates, Inc., a leading user-interface design and information-visualization firm. AM+A's clients include BMW, DaimlerChrysler, Motorola, Nokia, Samsung, Siemens, the US Federal Reserve Bank, and Visa. Mr. Marcus is a graduate in physics from Princeton University and in graphic design from Yale University. The title of the keynote is User Interfaces and Visible Languages: Culture, Signs, and Devices. User interfaces present facts, concepts, and emotions to people around the world across all devices, content, and contexts. What are the visible language design issues? How does culture affect visible language display? Can there be a universal visible language? The lecture explores issues of the future based on Mr. Marcus forty years of professional experience in combining graphic design and computer graphics.
The ATypI 2005 programme planning committee invites submissions of abstracts for presentations on any theme related to type and typography 'on the edge'; novel interpretations are welcome. Appropriate topics include, but are not limited to: typeface design, typographic media new and old, font technology, printing history, the use of type in graphic design, multilingual typography, and design education. Proposals are welcome for practical demonstrations as well as lectures and panel sessions.
Abstracts should include the title of the proposed presentation, the presenters name(s) and a short biographical note (approx. 50 words), and a short summary (approx. 100 words) suitable for publication in the conference programme.* Forty minutes is the standard length for a lecture or demonstration, including questions. Proposals for panel discussions or workshops may by allocated more time. The deadline for submissions is 14 April 2005.
It is expected that the speakers will provide the text of their presentations, and images if possible, for inclusion in a publication after this event.
*Biographies longer than 50 words and presentation descriptions longer than 100 words may be edited for length. The programme committee may also edit for clarity.
Presentation proposals should be sent to the programme planning committee by e-mail to
Helsinkiprogram@atypi.org
or by mail to
ATypI 2005 Helsinki
Association Typographique Internationale
6050 Boulevard East, Suite 2H
West New York, NJ 07093 USA
Please note that all other correspondence should be addressed to the ATypI Secretariat and Conference Office (see below).
Helsinki Programme Committee
Chair: Kai Rentola, University of Art and Design (UIAH); Tomi Haaparanta, Suomi Type Foundry; Jarno Lukkarila, Format Design; Sami Kortem ki, Underware; Jorma Hinkka, Graafiset Neli t Oy; Pavel Zelenka, Studio Marvil; Maxim Zhukov, Typographer; Ritva Leinonen, Lahti Institute of Design; Markus Itkonen; Graphic Designer; Riitta Brusila, Professor, University of Lapland; Marjaana Virta, WSOY, Graphic Designer.
For more information, visit
www.atypi.org
or contact the ATypI Secretariat & Conference Office (please note that due to administrative changes the mailing address will be different after April 1, 2005; please check the ATypI website for current contact information after that date)
---
For further information please contact:
Association Typographique Internationale
Secretariat & Conference Office
6050 Boulevard East, #2H
West New York, New Jersey, USA
T. +001 201-453-1775
F. +001 201-861-3365
E.
secretariat@atypi.org
About ATypI:
Association Typographique Internationale is the only worldwide organisation dedicated to type and typography. Founded in 1957, ATypI provides the structure for communication, information and action within the international type community. ATypI annual conferences are attended by delegates from more than 40 countries. Recent Conferences have been held in Prague (2004), Vancouver (2003), Rome (2002) and Copenhagen (2001). The ATypI Board of Directors: Jean-Fran ois Porchez, President; John Hudson, Vice President; Mark Barratt, John D. Berry, Henrik Birkvig, Roger Black, Clive Bruton, Ted Harrison, Gerry Leonidas, Thomas Phinney, Fiona Ross, Erik Spiekermann, Adam Twardoch, Pavel Zelenka, and Maxim Zhukov.