AUSTRALIAN DESIGN ALLIANCE INTRODUCES A NATIONAL DESIGN AGENDA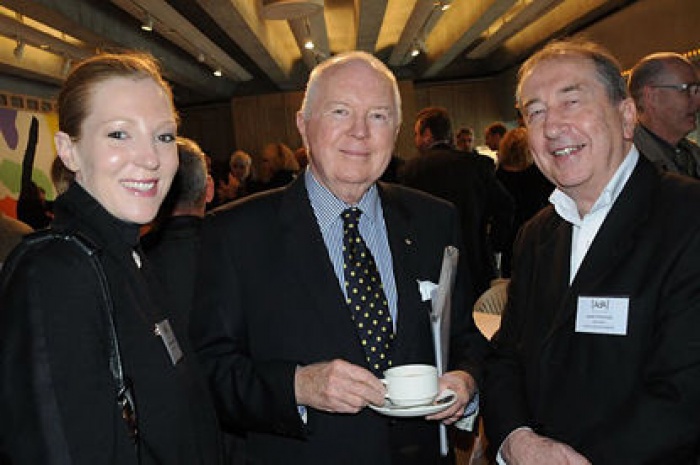 11.09.2010 News
Sydney (Australia
) – Twelve peak organisations representing all aspects of Australia's design industry and research network have launched the Australian Design Alliance [AdA] to boost Australia's productivity, sustainability and innovation.
One hundred of Australia's leading designers, architects, planners, artists, educators and policy makers launched the new Alliance at a first-ever meeting held in the Utzon Room of Australia's design landmark, the Sydney Opera House.
The meeting was attended by representatives from all three current partners of the International Design Alliance (IDA): Russell Kennedy, Icograda President and current Lead Chair of the IDA; David Lancashire, Icograda Vice President; Brandon Gien, Icsid Treasurer; and Madeline Lester, IFI Past President and IDA Executive Committee Member.
Icograda presented two displays at the launch, focusing on its World Design Survey™ (WDS). Russell Kennedy said: "Documented profiling of regional, national and international design sectors is crucial to effective communication with government. As is the creation of design-led, issue-based policy position statements from the profession. Governments want see evidence of design's contribution to industry and society but they also want to know where design stands on key issues and how it can make a contribution. Icograda is currently working with countries and their peak design bodies around the world to help deliver these messages. We see the WDS as the most relevant Icograda program for the ADA and look forward to working together in the future."
Above: Madeline Lester, IFI Past President and Russell Kennedy, Icograda President in front of the Icograda display. Design:
David Lancashire Design
, Production
The Sumo Visual Group
, Stock
Dalton
.
One of the attending [AdA] directors Jo-Ann Kellock said the new Alliance emerged from a series of consultations about how design should be an integral element of Australia's national innovation system at a time of rapidly changing business models and processes.
Ms Kellock said: "Australia's design professionals are internationally renowned for their creative skills, project management and teamwork. These are crucial capabilities for a more productive Australian economy."
Ms Kellock said the Alliance would pursue a national design agenda based on:
Case studies demonstrating how good design can contribute to improved economic growth through supporting superior business models and improved public sector service delivery;
Education and design skills at all education levels from school to MBAs; and
National design policy linked to Australia's innovation agenda.
The Alliance was launched by His Excellency, Michael Bryce AM AE, recipient of a 2009 Icograda Achievement Award, who advocated for design at the 2020 summit in 2007.
Mr Bryce said: "The formation of the Australian Design Alliance to provide evidence-based multi-disciplinary advice to governments and industry represents a step towards a new respect for the place that designers can play in our everyday lives."
"Good design in all of its fields creates economic and competitive outcomes. Poor design or design by default leaves too much to chance. If Australia is to be counted in the progressive nations of the world, competing on a world stage, it is no longer good enough to be only an agricultural and minerals based economy."
Above: Delegates to the launch of the Australian Design Alliance.


In one example discussed at the meeting, Mr Anthony Henry, Division Director at Macquarie Group was asked how design thinking has had a positive impact on Macquarie and helped the business maintain a competitive advantage.
Mr Henry said: "The environment that staff now work in is designed to provide the opportunity for the maximum amount of collaboration and sharing of knowledge to provide the best solutions for clients and client services. Our new interior has impacted in ways we didn't anticipate and design process has started to influence the way we think and provide the ability for different teams to sit in customized areas that help them to find business solutions that were simply not possible before."
Other case studies discussed at the Opera House meeting include the impact of design strategies at the state level in Queensland and Victoria.
---
For more information:
Geoff Fitzpatrick
ADA Director
E:
gfitzpatrick@design.org.au
Jo-Ann Kellock
ADA Director
E:
info@australiandesignalliance.com
About the Australian Design Alliance
The Australian Design Alliance (ADA) represents a substantial constituency. The combined national membership of the member organisations is in excess of 20 000 and they represent a constituency of almost 80 000 design practitioners.



Two Professional Members, the
and the
Design Institute of Australia (DIA)
are represented within the ADA< along with 10 other member organisations:
Australian Craft and Design Centres
Australian Graphic Design Association
Australian Institute of Architects
Australian Institute of Landscape Architects
Australian Network for Art and Technology
Council for the Humanities, Arts and Social Science
Council of Textile and Fashion Industries of Australia
Craft Australia
Design Institute of Australia
National Association for the Visual Arts
Planning Institute of Australia
Standards Australia