Call for abstracts: Typography Day 2011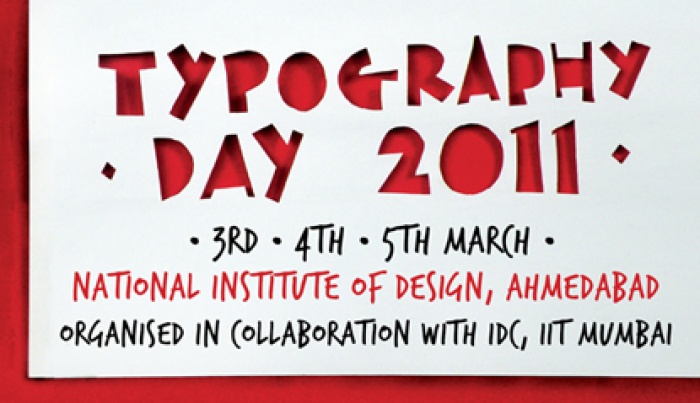 06.09.2010 News
Ahmedabad (India)
- Taking place from 3-5 March 2011 at the National Institute of Design, Ahmedabad, Typography Day 2011 will include a seminar devoted to addressing issues faced by type designers, type users and type educators.
The event is being organised as part of NID's Golden Jubilee Celebrations in collaboration with the (IDC) at the Indian Institute of Technology Bombay (IIT Bombay) with support from India Design Association (InDeAs).
Programme
The programme will feature presentations on the first two days followed by day of workshops dedicated to typography and calligraphy.
The event is planned over three days:
Day 1-2: Seminar focusing on 'Typography and Expression'
Day 3: Workshops on Typography/Calligraphy
Themes
The Seminar will focus on, but will not be limited to the following issues:
Typographic experiments and explorations with respect to Expressive typography.
Typographic expression using multilingual scripts.
Typographic expression in native (indigenous) Scripts.
Typography as an expression of local contextual design.
Research activities in expressive typography.
Call for Papers
We invite a 300-500 word abstract (with examples) in three categories:
Concern in Typography and Expression (Academic Research/Presentations)
Application of Typography and Expression (Industry Presentations/Case Studies)
Student projects in Typography and Expressions (Student Projects)
Abstract guidelines
The abstract should include the following:
Title of the paper
Keywords
Abstract of the paper
One or two examples of the work
Author name, Designation, Organisation and contact details (including email).
The total number of words including the title, keywords and the abstract should be a maximum of 500 words.
Paper and presentation details
The selection of abstract is through blind jury.
Selected papers will need to be orally presented by the author(s) during the conference on 3 or 4 March 2011 at NID, Ahmedabad. The time duration for each of the paper presentations is 20/15/10 minutes followed by five minutes for discussion along with Q&A. The selected papers will be published during the time of the conference.
Formatting guidelines as well as a template for the full paper will be supplied along with the acceptance mail of the abstract.
Deadlines
Deadline for abstract submission: 1 October 2010
Declaration of accepted abstracts: 3 November 2010
Deadline for submission of full paper: 31 January 2011
Please submit the abstract (subject line: Abstract submission) by mailling it to:
typographyday@gmail.com
Find out more at:
www.idc.iitb.ac.in/~typo
---
For more information, please contact:
Industrial Design Center
Indian Institute of Technology Bombay
Mumbai, Ma
400 076 India
T: +91 22 576 7801
F: +91 22-576 7803
E:
office@idc.iitb.ac.in
W:
www.idc.iitb.ac.in