FINLAND CELEBRATES DESIGN YEAR 2005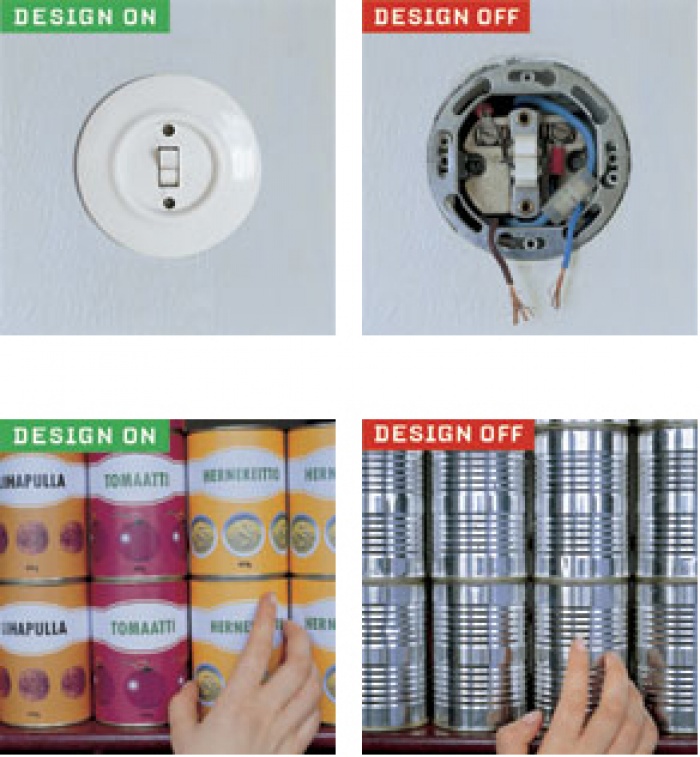 20.01.2005 News
Helsinki (Finland)
- Design is made by people for the people. That is the message that Finland is promoting to its citizens during Design Year 2005. The aim is to inform the public of the importance and potential of design as a resource for boosting industry, trade and business. A collaboration among design associations, educational institutions, resource centres and industry representatives in Finland, the Design Year will give the public an opportunity to experience the value and contributions of design through exhibitions, seminars, student workshops and more.
Why is design important and what is it needed for?
We need design to complement technological know-how. Design is vital to the competitiveness of businesses and the affluence of society. Technical excellence is not enough; what matters is the experience offered by products.
The Design Year celebrates the end of the design policy programme Design 2005! The programme is based on changes that have taken place in the structure of the economy and its objective is to improve the design competitiveness of Finnish businesses with the help of design know-how.
Events around Finland
The events of the Design Year are open to everyone. They provide an opportunity to see design, meet professionals and learn about training, research, innovation, new products, trends and businesses that use design.
The programme for spring 2005 will be published in November 2004. The programme for the autumn will be published in May 2005. For details, visit
www.finnishdesign.fi
Organisers
The Design Year is organised by Design Forum Finland, the University of Art and Design Helsinki, the Finnish Association of Designers Ornamo, Grafia, the University of Lapland, Design Museum, the Armi information centre, the National Council for Design, the Finnish Round Table of Design, several industry and trade union opinion leaders and organisations, and businesses. The patron of the Design Year 2005 is Prime Minister Matti Vanhanen.
Contact
Design Year 2005
Anna Varakas, Communication Manager
Design Forum Finland
Erottajankatu 7
FIN 00130 Helsinki
T: +358 (0)9 6220 8116
E:
anna.varakas@designforum.fi
W:
www.finnishdesign.fi
---
Design Year in Finland 2005
Some examples of events:
TUNNE TILA (Know the space)
Date: 01.01.2005 - 31.12.2005
Place: Monthly changing places, Helsinki
The TUNNE TILA (Know the space) signs of the Finnish Association of Interior Architects SIO's event during the Design Year 2005 challenge people to pay attention to the spaces they use.
-----
Beautiful relationships at the O-Gallery
Date: 01.01.2005 - 31.12.2005
Place: Monthly changed placed in Helsinki
How do science, art and trade influence design? O-gallery displays Beautiful Relationships exhibitions by members of Ornamo, which emphasise the influence of other fields on design.
-----
40th Anniversary Fashion Designers MTO
Date: 01.01.2005 - 31.12.2005
Place: National
Finnish fashion designers association celebrates its 40th anniversary. It will organise several exhibitions and shows around Finland.
-----
A hundred shapes Lahti from its inhabitants' point of view
Date: 01.01.2005 - 31.12.2005
Place: Lahti
How does design appear in Lahti and its surroundings? How do the city's inhabitants feel about design? What can design improve or change?
-----
From one world to another - Wetterhoff 120 years
Date: 01.01.2005 - 31.12.2005
Place: Hameenlinna
Wetterhoff, a craft and design school and company, will celebrate its 120th anniversary in 2005 with seminars, exhibitions, publications and new products.
-----
Muotoilun kuutio Design Cube
Date: 01.01.2005 - 31.12.2005
Place: Kuopio market square, Kuopio
The Design Cube is a forum that introduces innovations from Kuopio. During the Design Year it will function as a venue for changing exhibitions and publicity.
-----
Designer: no name - designer unknown
Date: 16.01.2005 - 20.03.2005
Place: Kuparipaja, Fiskars
The Designer: No Name exhibition is based on the Torbj rn Lenskog collection. It comprises almost 250 everyday items from the 20th century by unknown designers, including tools and household utensils.
-----
CLOTHES! and Finnish jewellery
Date: 20.01.2005 - 13.03.2005
Place: Joensuu Art Museum, Kirkkokatu 23, Joensuu
Finnish clothing design is booming. The exhibition Clothing! displays work by well-known Finnish designers from uniforms through leisure wear.
-----
Fennia Prize - Good Design Grows Global
Date: 21.01.2005 - 20.02.2005
Place: Design Forum Finland, Erottajankatu 7, Helsinki
The Fennia Prize is a well-established annual Finnish design award. It draws attention to well-designed products and encourages businesses to use design in their competitiveness strategy.
-----
Well-Placed Brands as Part of Successful Design Concepts
Date: 02.02.2005 - 02.02.2005
Place: Media Centre Lume, University of Art and Design Helsinki, H meentie 135 C, Helsinki
The British Council and the Designium are starting a series of seminars the purpose of which is to improve Finnish businesses' brand awareness and skills.
-----
Paavo Tynell and Taito Oy
Date: 04.02.2005 - 28.03.2005
Place: Design Museum, Korkeavuorenkatu 23, Helsinki
Paavo Tynell (1890 1973) is one of the pioneers of Finnish light design. Tynell's delicate brass lighting fixtures are everyday classics and coveted collectibles.
-----
Muoto 05 Fair / House of Design
Date: 04.02.2005 - 07.02.2005
Place: Helsinki Fair Centre, Pasila
The Muoti 05 Fair is the largest fashion event in Finland. It introduces spring and summer trends and collections.
-----
Fantasy Design design education for children
Date: 08.04.2005 - 15.05.2005
Place: Design Museum, Korkeavuorenkatu 23, Helsinki
Fantasy Design is a design education project in which thousands of school students from Belgium, Norway, Scotland, Denmark and Finland redesign objects familiar to them.
-----
Vuoden Huiput Best of the Year in Advertising and Graphic Design
Date: 22.04.2005 - 08.05.2005
Place: Design Forum Finland, Erottajankatu 7, Helsinki
Designers founded the Best of the Year competition 25 years ago to foster togetherness and professional debate.
-----
For further information please contact:
www.finnishdesign.fi