MEET NEW IMPULSES IN GRAPHIC DESIGN AT FACE TO FACE 5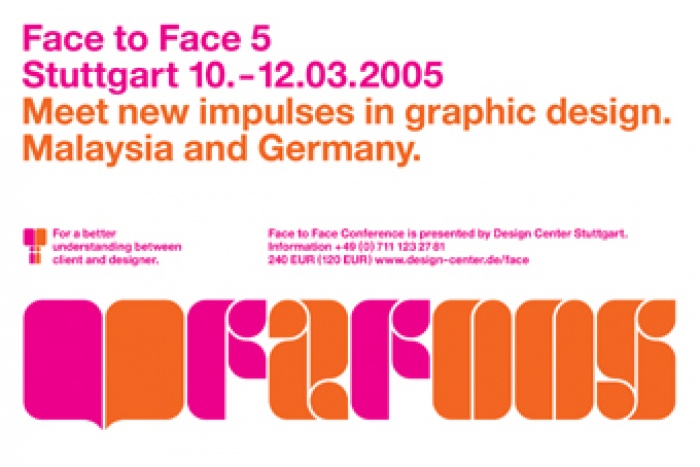 17.01.2005 News
Stuttgart (Germany)
- When visual designers and clients present themselves to the participants of Face to Face 5* in the Design Center Stuttgart in March, Malaysia will be the first guest country from outside Europe. Once again, the successful Face to Face concept promises to be a graphic design highlight. Close cooperation between the Design Center Stuttgart and its Malaysian partner organization, Pertubuhan Wakaf Reka Grafik Malaysia WREGA, is the guarantee of a varied programme - one which will once again live up to its motto "For a better understanding between client and designer".
The event is centred around a two-day conference, whose focus on dialogue means that not only the many speakers from the two countries will be able to have their say, but equally that delegates will be able to network and forge contacts. From Germany, probable contributors include such well-known studios as United Ideas or Pentagram Design. The latter will be presenting itself together with its client Star Alliance Services. What is striking about the many topics, however, is their diversity. Delegates will get to know not only the global players among the clients and design studios, but also companies and service providers whose market presence is characterized by unconventional, highly innovative products. For example, there is the virtual cemetery for animals with valuable fur, designed by Fork Unstable Media for NOAH Menschen fur Tiere e.V. Or there is logstoff.com, a new brand of bag that gives its owners exclusive access to an internet community, and calls for a corresponding communication strategy.
Delegates from Malaysia will include Kamil Yunus from the Freeform Design studio, with its client Dewan Filharmonik Petronas, the well-known Malaysian Philharmonic Orchestra. Ming Tung's presentation will take a critical look at software piracy in Asia. The Chimera studio will take a close look at how to develop an Asian brand, which is a huge challenge if one considers the cultural and religious diversity of Asia. In Kuala Lumpur alone, the population comprises Malays of Indian and Chinese descent, Muslims, Hindus, Buddhists and Christians - all crowded together in one city. "Meet new impulses in graphic design", the appeal made every year by Face to Face, promises to be fulfilled in very many respects in 2005.
Apart from presentations and discussions, the Face to Face Lounge is the focus of the conference, the central meeting point for delegates and speakers. This is the place to meet for all those looking to exchange views, to establish new contacts and to intensify already existing ones. Not everything will be left to chance, and the Design Center Stuttgart will again be setting up the "Face it! chatroom", where debate will focus deliberately on the topics at hand.
Finally, Face to Face 5 will be accompanied by several exhibitions, which will provide an appropriate setting for the conference, as well as giving it extra appeal. The "Keeping a Visual Eye on Business" and "Man & God" exhibitions, both of which will be shown in Germany especially for Face to Face 5, illustrate the features and characteristics of both Malaysian cultures and Malaysian graphic design. From Germany, the Bund Freischaffender Fotodesigner (Association of freelance photo-designers) will be presenting prize-winning works, and the results of the Corporate Design Awards competition organized by the Communications Association and a cross-section of four years of the BDG s poster competition will also be on show.
Face to Face 5 will take place in the Haus der Wirtschaft, Stuttgart, from 10 to 12 March 2005.
---
For further information please contact:
Design Center Stuttgart
des Landesgewerbeamts Baden-Wurttemberg
Willi-Bleicher-Str. 19
D-70174 Stuttgart
Germany
T: + 49 711 123 2781
E:
design@lgabw.de
W:
www.design-center.de
*This event is endorsed by Icograda. Icograda endorsement is a guarantee that the design event complies with approved international guidelines.