"THE JAGDA POSTER EXHIBITION: WATER FOR LIFE" IN SPAIN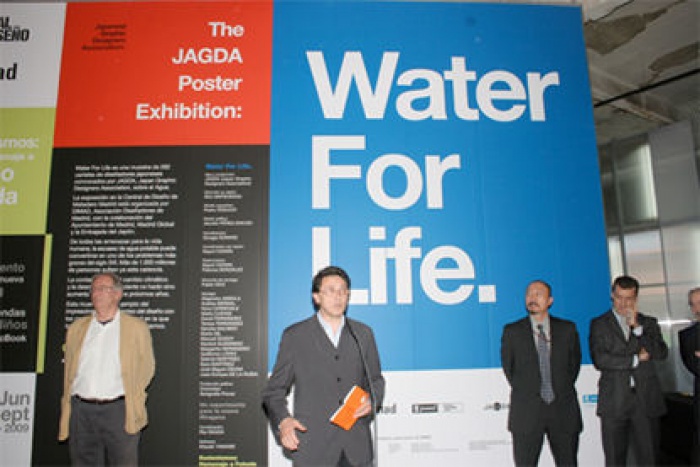 02.07.2009 News
Tokyo (Japan)
- In 2005, organised "
The JAGDA Poster Exhibition: Water For Life
", compiling a total of 282 posters designed by JAGDA members and students from all over Japan under the theme of "water". Upon request from Association of Madrid Designers (DIMAD), the whole set of posters is now traveling abroad for the first time.
A number of events are planned during the exhibition period. Among them, seminars and a special exhibition to pay homage to the late Mr. Fukuda Shigeo, who had a great influence on the Spanish graphic designers, are drawing attention from local designers.
The opening reception held on the 10 June was attended by guests from various fields, all of whom showed a high interest in the diverse messages expressed by the Japanese graphic designers.
Date: 10 June - 13 September 2009
Venue:
Design Centre of Matadero Madrid
Concurrent Events: Special Exhibition "Ilusionismos: Homenaje a Fukuda", Installation "Experiment for a New 'Hiragana'"
Organiser:
Association of Madrid Designers (DIMAD)
In collaboration with: JAGDA, Japanese Embassy in Spain, Madrid Global, and TNT Express Worldwide
---
For more information, please contact:
Ms. Chika Kudo
JAGDA Secretariat
Midtown Tower 5F
9-7-1 Akasaka
Minato-ku, Tokyo
107-6205 Japan
T: +81 3 5770 7509
F: +81 3 3479 7509
E: jagda@jagda.org
About JAGDA
The Japan Graphic Designers Association Inc. (JAGDA) is an organisation of professional graphic designers active throughout Japan and abroad. Since its establishment in 1978, JAGDA has continuously aimed to promote the enhancement of graphic design and to contribute to the betterment of cultural life through graphic design. JAGDA is a Professional Member of Icograda.